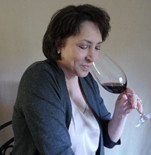 Sharyn Kervyn de Volkaersbeke is passionate about wine. Her entire professional career has been devoted to this Industry; learning and sharing her knowledge with the staff she trains, at lectures, seminars and with fellow enthusiasts in the wine organizations to which she belongs. She is a member of The Dionysian Wine Society, Wine and Spirit Education Trust (WSET), Society of Wine Educators (SWE)and The American Wine Society (AWS), where she was the National Tasting Project Chair (2016-2021), Regional Vice President (2017-2019) and is currently a National Wine Educator. She is a Certified Wine Judge (CWJ), Certified Specialist of Wine (CSW) and Sommelier through the Guild of Sommeliers. Sharyn is also a WSET Diploma graduate (dipWSET, their highest level 4).
Sharyn is a Professional Wine Judge and has been judging annually for Amateur and Commercial Competitions across the country since 2010, including renowned international competitions such as: the Sommelier's Choice Awards, USA Wine Ratings, Texas International and the Finger Lakes International.
Having grown up in her family's restaurant, specializing in wine was a natural progression for Sharyn. Throughout her career she expanded operations for multi-unit chains, increasing profits and creating popular neighborhood venues through special events and promotions. She opened the Getty Center in Los Angeles in 1997 as their Catering Director, developing their standards of service. In Beverly Hills she restructured a dining venue for Barneys New York and created elaborate on and off premise events for Hollywood Elite. At every location, Sharyn was also the wine director, training the staff and overseeing the Wine Lists. She has consistently earned "Best Of" Wine Spectator Awards for her lists at The Capital Grille locations where she worked for more than a decade. Sharyn founded KdV Wine Services in 2020, specializing in Food & Wine Pairing, Sabering Events, Wine Education, Commercial Videos, Wine List Services, Gourmet Picnics, Cellar Services and more.
KdV Wine Services | Wine Promotion, Consulting & Event Services