A flavorful exploration of Piedmont
I've been lucky enough to visit Italy in the past, but never the North West region. Piedmont, is a beautiful and rich area, located at the edge of the majestic Alps and Apennines, known for its world renowned wines, like Barolo and Barbaresco. I was invited to visit the Monferrato region to learn more about Italian wines. This experience was guided by the expert and passionate proponent of indigenous grapes, Ian D'Agata. Ian has written about the grapes, wines and foods of Italy in Gambero Rosso, International Wine Cellar, Decanter and Vinous as well as the book, "The Native Grapes of Italy". We were privileged to learn and explore some of the many wines of Italy, including some that I had never heard of. Here I share some of my experiences of this sensorial adventure.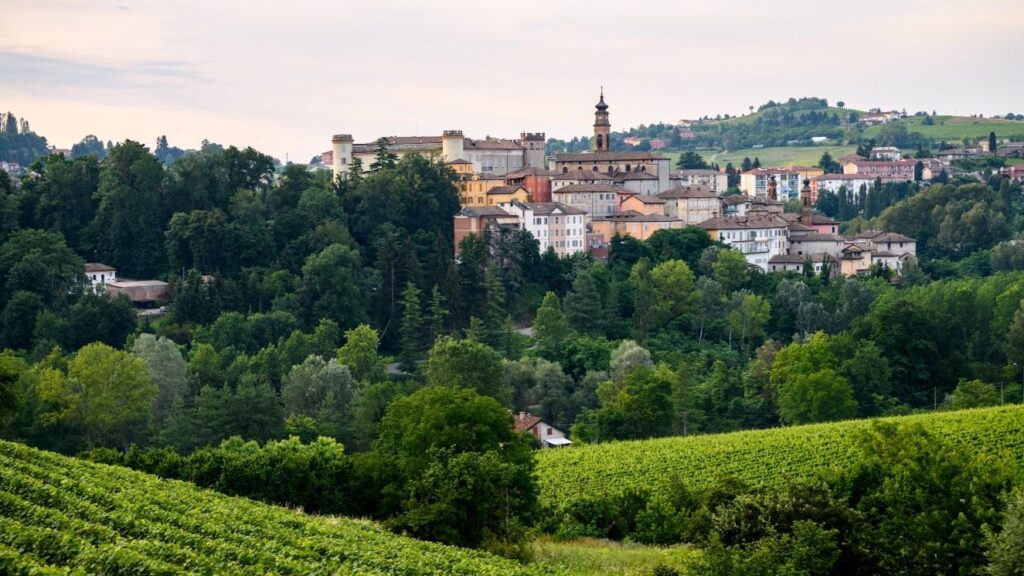 In Piedmont, many of the grape names are familiar, like Nebbiolo, Barbera, Dolcetto, and Moscato Bianca which make some really great wines. But it is important to note that nearly one third, of the world's grape varieties are native to Italy. Over 500 native grape varieties have been identified in Italy, and most likely some have not yet been discovered in scattered, hard to reach vineyards. Many of these grape varieties are rare and in danger of being uprooted in favor of international grape varieties, like Cabernet Sauvignon and Merlot which may be easier to grow, make wine with or to sell. I had an amazing opportunity while in Piedmont to taste some of these lesser known, rare, and intriguing wines, meet their producers and learn more about them.
My first discovery was a surprisingly aromatic red wine produced from the rare grape Ruché, which Ian and I tasted with several producers in the Castagnole Monferrato DOCG. There are 190 hectares planted within Piedmont and probably another 10 or so in the rest of Italy. About 900,000 bottles are produced primarily in Castagnole Monferrato but there are people planting and producing it elsewhere. Surprisingly the famous Barolo producers Giuseppe Rinaldi and Scarpa make a Ruché wine.
The origin of the elusive grape is unknown. Whether native to Piedmont or having arrived from Burgundy in the 18 th century, it was used to produce sweet or blended wines reserved for birthdays, homecomings, and other special occasions for much of its history. "If someone in Castagnole Monferrato offers you a Ruchè, it's because he cares about you," is the saying in the village, an expression of love and the celebration of life's special moments.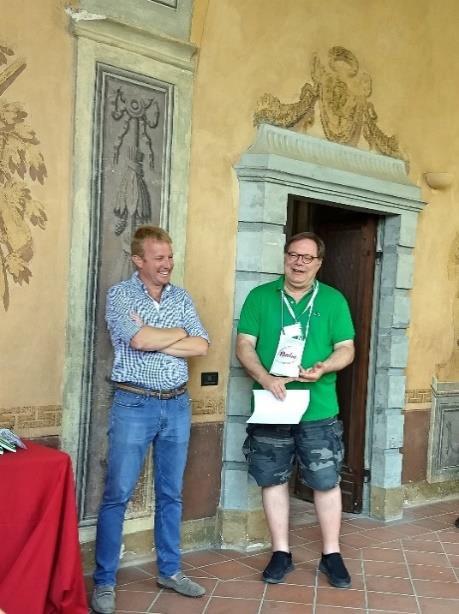 In the 1970's, parish priest Don Giacoma Cauda saw the potential to show off the floral, spicy, and red fruit character of the variety as a dry wine, and the modern style was born. As Cauda noted, "It has a perfect body and a balance of aromas, flavors, and unique bouquet. Tasted in moderation, it liberates the spirit and opens the mind…". Cauda reinvigorated an old parish vineyard and campaigned for dry Ruché, which gained recognition as a DOC* (1987). Later, Marco Crivelli, as the president of the Ruché consortium, worked to promote this to a DOCG in 2010. (photo of Luca Ferraris and Ian D'Agata)
Marco Crivelli, of Azeienda Agricola Crivelli in Castagnole Monferrato proudly showed us his vineyard full of robust and healthy Ruché vines. It is a vineyard his family has farmed for 500 years. His delicious Ruché di Castagnole Monferrato 2017 was typical of the variety, showing floral notes of iris and violets. It was as if you were smelling an aromatic white wine rather than a red; floral notes, enmeshed with peaches, dried and tart cherries. The flavors exhibited ripe fruit, balanced with some refreshing acidity and a rich finish. Crivelli's focus is on quality and hard work, maintaining his vineyards sustainably. He eschews chemical intervention for the health of his family, the vines and the land.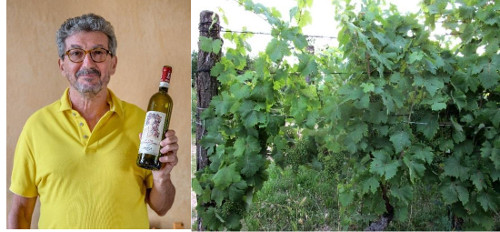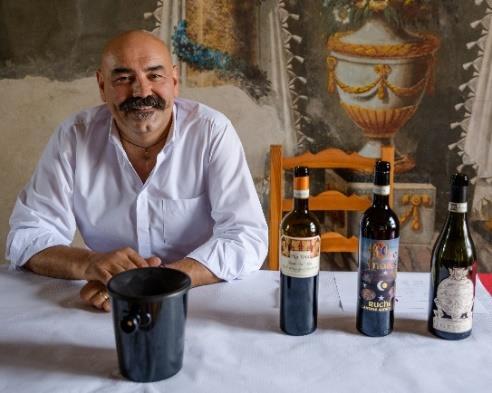 Another producer, Franco Cavallero from Cantine Sant'Agata had a flavorful wine made in a somewhat different style. The Genesi is 90% Ruché and 10% Barbera, the grapes are dried for 2 months, and then spend 5 years barrel aging. Rich notes of cherry, violets, roses and savory eastern spices like cumin, cardamom, and black peppercorn gave it a sense of sophistication. I couldn't help thinking of all the lovely foods I would love to eat with this wine, like aged cheese, grilled or roasted meats and poultry. It was suggested that it would pair well with chocolate. This is an opportunity for more research, I always appreciate a reason to taste both chocolate and wine! Franco Cavallero came with us to dinner and brought a pleasant surprise. He makes gin in 3 styles; one with flowers for flavor, which tasted dry and fresh, another made with fresh raspberries, fruitier in style and the last one produced with herbs that usually are used for Vermouth, more herbal and bitter in flavor.
A wine not to be missed, is the Montalbera La Tradizione Ruché. This wine is aged in stainless steel, and expresses florals, dried fruit, a touch of almonds and honey. Even though it had only been in the bottle for one month, I enjoyed the smooth silky tannins and lovely floral notes. This wine would work well as a summer wine, pairing with grilled food and barbeque, even served slightly chilled. I love the depth of aromatics and flavors that Ruché delivers and look forward to tasting more of it!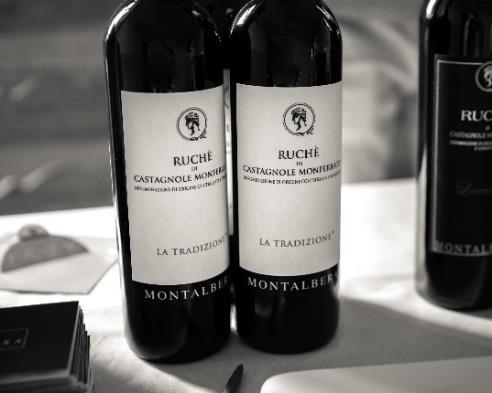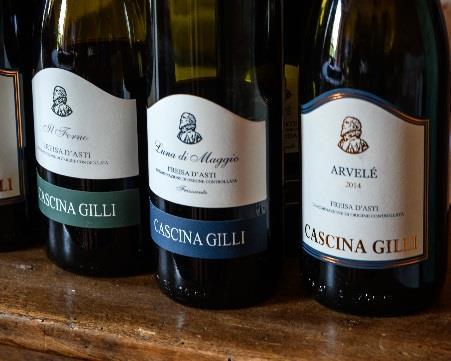 When the afternoons are too hot for a rich Ruché, the fizzy, off-dry** Freisa wines are a nice alternative. The name is Latin for strawberry. This wine portrays notes of strawberries, roses, sour cherries, tobacco and violets. Freisa is a very close relative of Nebbiolo (one of the world's greatest cultivars, used to make Barolo and Barbaresco wines) and it is still to be determined which vine is the parent and which is the offspring. The Freisa vine looks more like a wild vine, so many assume it is the parent. Like Nebbiolo, Freisa wine has a high level of acidity and tannin, which works wonderfully with foods, like mushroom dishes and cheese and ages well. To offset some of the bitter tannins, Freisa is often made in a fizzy, off-dry style. I really enjoyed the Cascina Gilli Luna di Maggio Freisa d'Asti, 2015 made this way. It exhibited lovely spice, red fruit and florals. But I also tasted some really great Freisa produced as a dry wine. One of my favorites was the Ivaldi Dario, Freisa d'Asti Superiore, 2016, this beautifully balanced Freisa had lovely red fruit and botanical notes.
Ksenia Berta shared her wines with us as well. Besides being a delightful person, I enjoyed her family's wine, the Berta Paolo Dolcetto d'Asti Livroje 2017. It had aromas of blackberry and cherry, beets, spice and floral notes. The word Dolcetto means "Little Sweet One". The grapes are sweet and low in acid, thus the name, but the wines are always made in a dry style.
A pleasant surprise for me was a Moscato d'Asti. I have tried a few in my lifetime, but found them too sweet for my taste and not well balanced. At one of our dinners in Barolo, Roberto Garbarino, one of the producers, sat with us and shared a bottle of his Moscato. This wine, Hiku Moscato 2017, was made from old vines, insmall quantities (so far, I haven't been able to get it here). It was lush with sensual aromatics of jasmine flowers citrus and herbs. It was delicious and the perfect way to end a summer evening al fresco dining on the castle terrace in Barolo.
Another new (for me) wine that I loved was the Gamba di Pernice, which translates literally as "Leg of the Partridge". The name was certainly intriguing and came about because the vermilion color of the grapes stalks resembles the bright red legs of the local partridge. I tasted a 2013 Villa Giada, with the winemaker/owner Andrea Faccio. It has rich aromas and flavors of spice, tar and balsamic. In youth the wine will have fresh notes of florals and red berries. It ages beautifully and goes well with many meat dishes, light to dark, and rich stews.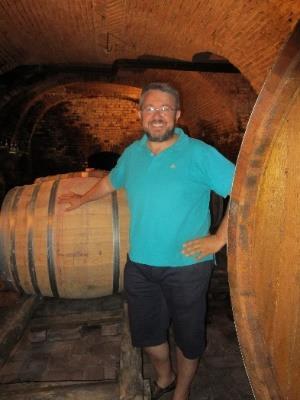 Andrea gave us a tour of his beautiful vineyards and winery. His vineyards were located in two main locations in the lovely, rolling hillsides of Canelli in the heart of Monferrato, which is a UNESCO World Heritage*** site. This area is part of the newest DOCG, Nizza. It was originally a subzone of the Barbera d'Asti DOCG but came unto itself in 2014. Standing in his Barbera vineyard, we surveyed the hills and valleys covered in vines. Barbera is the most planted grape in Piedmont and the second most planted grape in Italy, after Sangiovese. It is a grape that highly expresses terroir; a sense of place, exhibiting distinct qualities of the soil, climate, shape of the land, etc. I really enjoyed several of his Barberas, deep in color, intense with a complex structure of spice, earthiness and red fruits. The Dedicato, Nizza DOP had aromas of licorice, tobacco, cocoa and balsamic notes. The great structure and good acidity makes them wines that pair well with foods like mushrooms, game birds, rich dark meats, root vegetables & braised greens, tajarin pasta. Andrea's wine are certified by Valoritalia, an external officially recognized organization, as Certified Sustainable Agriculture products. This certification recognizes a commitment to respecting nature and its balance.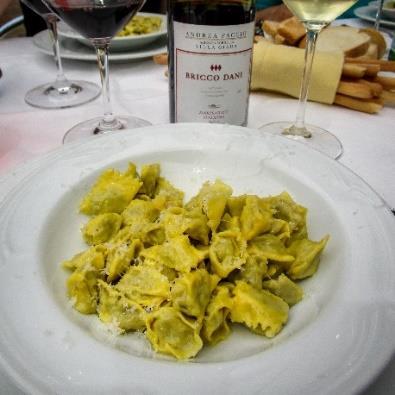 After the very enjoyable time spent tasting his wines, Andrea then took us out to lunch. That lunch was an amazing experience! Ristorante del Belbo da Bardon (in San Marzano Oliveto, Asti), was inconspicuous from the outside, not sure I would have even recognized it as a restaurant, but we quickly were made to feel like special guests. We sat outside on the terrace and were served an amazing array of courses, one of which included a cart where you could pick the meat option of your choice; quail, pork, beef, chicken, etc. The two brothers who owned the restaurant were the chefs and servers and they served each guest like you were royalty. I really love, love, love their Agnolotti al Plin! It is similar to a small round ravioli folded over a filling of roasted meat or vegetables to form a small semi- circular shape. The term Plin means "a pinch," because one pinches the pasta with thumb and forefinger to close and seal the little pasta packets over the filling. Here at Ristorante del Belbo it was filled with meat and served with a fresh sage and butter sauce topped with freshly grated Parmigiano-Reggiano cheese (one of the brothers grated it fresh onto our dishes). The delightful flavors of the simple sauce only enhanced the meaty richness of the filling in the agnolotti pockets. We had several of the delicious wines of Andrea Faccio of Villa Giada, including his Bricco Dani, a Barbera d'Asti which tasted amazing with the pasta and the quail. The food and wine were delicious, theservice made you feel like family and the casual surroundings came together to create a truly delicious sensory exploration, all creating an amazing experience!
One of the classic Piedmont dishes is vitello tonnato, made with slowly braised veal which is chilled overnight, then the aromatic veal is thinly sliced and blanketed with a rich fish sauce made with tuna, capers, lemon juice and anchovies. This sauce provides an excellent balance of textural richness, salt and acidity. It all sounded a bit strange to me, but turned out to be truly delicious, an ultimate surf and turf! It is served cold or at room temperature in the summer and often times at Christmas. I was served several renditions, often garnished with capers, parsley, anchovies, and/or lemon slices which imparted a contrast of colors, textures and flavors for a delicious culinary experience.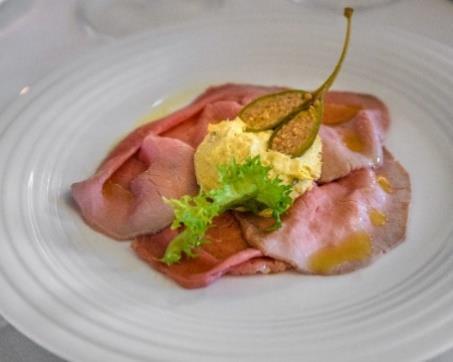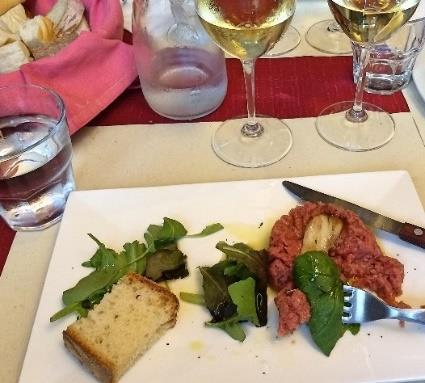 Then there is carne crudo, which literally translates as "raw meat". It was like steak tartare that I had tasted in the past, but sooooo much better. The texture of the high quality, grass fed beef is elevated because it is freshly chopped with knives just prior to serving, not put through a meat grinder. It is delicately flavored with just the right amount of aromatic, flavorful extra-virgin olive oil, coarse sea salt and just a touch of lemon. I had to enquire why the amazing flavors of one of the best carne crudo's I tasted, at Ristorante Buon Padre in Barolo was so special. Claudio Viberti, our generous host told me that they rub the lemon along the edges of the bowl, then mix the meat so that the lemon juice gently flavors the raw meat without cooking it. This resulted in an absolutely amazing delicate layering of flavors. Made from fresh, seasonal, quality ingredients, simply seasoned, allowing the delicious flavors to shine through. One of those dishes you daydream about! This epitomized what I found often in Italian food, perfectly balanced with richness, acidity, and saltiness. The delicious wines, now made by Claudio, third generation winemaker were originally made by the family to serve to their restaurant patrons and they worked beautifully with all the delicious food. Now the wines are enjoyed by many, not just the restaurant patrons.
Another fun and delicious pasta, I tasted is tajarin. A long, thin, flat, rich noodle which is unique because of the large number of egg yolks used to make it. The name is Piedmont dialect for tagliatelle or tagliolini. Generally tagliatelle, is made with about 20 eggs/kg dough, but tajarin can contain up to 40 egg yolks/kg dough. I was told that they try to get as many eggs in the dough as possible. It has a rich flavor, lovely golden color and a satisfying texture, often served simply with a meat ragu, mushrooms (often truffles, if in season) or butter and sage.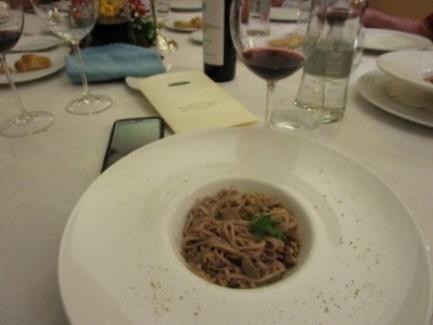 A dish I encountered often in Piedmont, salat russe had me rather perplexed. The direct translation is russian salad, also known as Olivier salad. To me it looked and tasted like what we call potato salad in America with the curious addition of peas and carrots. Not saying that it was a dish I especially craved, but it was regularly served and seemed to be a classic dish of the region.
Truffles, never to be ignored, especially in truffle country! I was visiting during the early summer, so there were only fresh black truffles available. I was worried I wouldn't get to taste any, but at a lovely meal in La Braja restaurant (in the small town of Montemagno) at a Ruché dinner, they served a delicious sformato di zucchine con toma di alpeggio e tartufo nero, (Zucchini with Alpine Toma and black truffle). This dish had a shaving of black truffles, a perfect accompaniment, adding an earthiness to the dish, just delicious. I was informed that the white truffles in the fall are the more intensely flavored and prized. If you love truffles, you must plan a visit to Alba (also a UNESCO world heritage site) in October/November, which is harvest time for white truffles. I plan to visit the International Alba White Truffle Fair, held yearly, https://www.fieradeltartufo.org/en/ soon.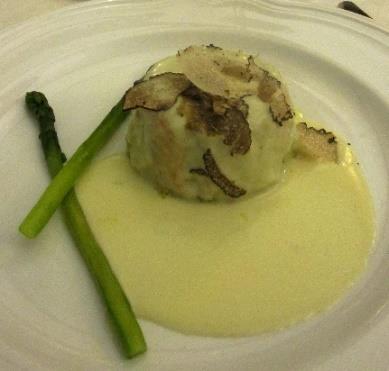 And of course we can't forget dessert! The region is famous for its hazelnuts. The 'Nocciola del Piemonte' is spherical in shape and is characterized by a fine and delicate flavour, with a crisp pulp. After World War II, due to the high tax and low availability of cocoa, Pietro Ferrero, a baker in Alba, used hazelnuts to extend his chocolate supply leading towards the creation of Nutella. The Ferrero Company also created the chocolates, Ferrero Rocher, an internationally enjoyed chocolate, hazelnut treat. You can't visit the factory (closely guarded secret) but you can visit some of the hazelnut farms and I've heard that if the wind is right, you can get an intense whiff of chocolate and hazelnuts on the breeze in Alba. The beautiful countryside is rolling hills covered with grapevines and hazelnut groves. These hazelnuts have a Protected Geographical Indication (PGI) certification.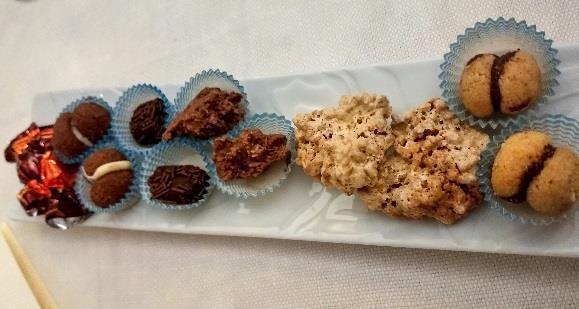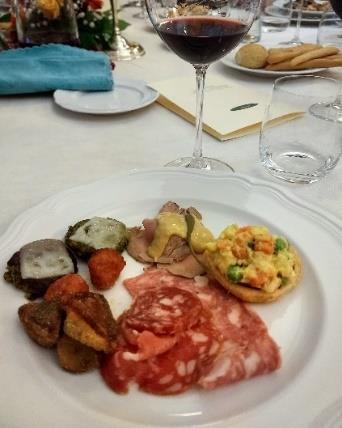 The foods of Italy are diverse and delicious, based on what grows well in the region, simplicity, freshness, and seasonality. To round out the amazing culinary experience, I tasted many delicious aged meats, cheeses, and olive oils. The region is known for its bread sticks, which were on every table, many hand rolled. In this Northern region of Italy I tasted dishes that were very different from central and southern Italy. They were often richer, earthy and went beautifully with the wines of the region. In Italy wine is considered food, and it's important to note, "if it grows together, it goes together".
The people I met were warm, their hospitality welcoming and the countryside was lush, a patchwork of vineyards draped over rolling hills, interspersed with castles, and small quaint villages. All told, my visit to Piedmont was a beautiful, educational and delicious adventure, an exploration of the senses, filled with lovely surprises and I hope to return again soon. Ciao!
---
*DOC stands for Denominazione di origine controllata or controlled designation of origin. It indicates a level of quality assurance for Italian wines. This system is modeled after the French system, Appellation d'origine contrôlée (AOC) designations. This system was introduced by the Italian government in 1963 and updated in 1992 to comply with European Union law on protected geographical designations of origin.
DOCG stands for Denominazione di Origine Controllata e Garantita, indicating that it is controlled and guaranteed as a designation of origin. These designations require that a food product be produced within the specified region and harvested and produced using certain specific guidelines to ensure a defined quality standard.
** off-dry – Wines are made in various styles and some of the terms used to describe these styles are dry, sweet and semi-dry/off-dry. These terms refer to the level of sweetness or residual sugar in a wine. A wine is considered "dry" when all of the sugar has been converted to alcohol during fermentation. A sweet wine still has some residual sugar. "Semi-dry" or "off dry" wines will have a softly perceptible level of sweetness.
*** UNESCO World Heritage – The United Nations Educational, Scientific and Cultural Organization (UNESCO) seeks to encourage the identification, protection and preservation of cultural and natural heritage around the world considered to be of outstanding value to humanity. This is embodied in an international treaty called the Convention concerning the Protection of the World Cultural and Natural Heritage, adopted by UNESCO in 1972, https://whc.unesco.org/en/about/.