Are you interested in becoming a wine judge? Here is a list of the wine competitions I have been honored to judge in.
The American Wine Society offers a 3 year program designed to train you to become a certified wine judge. Please visit their site for more information and of course, I am happy to answer questions!
American Wine Society P.O. Box 889 Scranton, PA 18501 (888) 297-9070
Held in Strasbourg, France. This competition is the culmination of 25 years of experience in the organization of international wine competitions. Their goal is to contribute to the international influence of winemakers from 5 continents. To highlight their exciting craft as wine trends. And to celebrate the white grape varieties and the richness of the terroirs of the world.
Held in Madeira, Portugal. Since 2014, the Portugal Wine Trophy has been one of the most important wine challenges in Portugal. At the end of April, wine connoisseurs from around the world meet in the beautiful island of Madeira. For four days in a row, from behind closed doors, the top jury tastes noble wines from international vintners and importers and mark their points. Only the best products are awarded Grand Gold, Gold, or Silver.
Held in Berlin, Germany. With over 20,250 submitted wines, 700+ International Judges and 41 entrant countries. World's Largest OIV (The International Organization for Vine and Wine) Wine Competition. Deutsche Wein Marketing has been setting standards for international wine competitions for 25 years. All tastings are not only under the patronage of the OIV but also under the auspices of the International Union of Oenologists (UIOE) and notary supervision. The DWM Wine Trophies are, therefore, considered to be among the most strictly controlled wine competitions worldwide.
Held near Austin, Texas. A 501(c)3 non-profit organization dedicated to bringing attention to Texas as a prominent viticulture and wine-making region, and raising awareness and funds for charitable causes.
Held in New York. To make a great wine you bring all of your artistry, dedication, science and passion to the table. We bring the most respected judges from around the world to the other side of that table. Competition on a truly international scale – all for the best of reasons – Giving Back. The Raise A Glass Foundation, TM is a registered NY 501(c)(3) non-profit organization created to help save and improve the lives of adults and children around the world. We accomplish our mission by collecting and donating to deserving charities a valuable asset – thousands of award-winning bottles of wine, beer and spirits – which they use in their fundraising galas, dinners, auctions and other events. Great American Amateur Wine Competition
Held in Virginia. Judging wines from the states on the Atlantic seaboard starting in 2005. The goal of the Association is to make the public aware that the eastern seaboard is a quality wine-producing region.
New Mexico State Fair Wine Competition, (TC), 2022
Held in Albuquerque, New Mexico. Taught class to wine judges and then judged the wines of New Mexico.
Held in Syracuse, New York. Currently evaluating amateur wines submitted by home winemakers from New York state. In the past, it was both amateur and commercial wines.
Held this year in Bellevue, Washington. The American Wine Society competition for commercial wine, which now includes spirits, has been held annually since the 1986 National Conference.
Held in Rhinebeck, New York. This competition highlights the quality of the region's wines and spirits.
Held in Massachusetts. Wine competition entries in 2012, included over 280 wines from all 6 New England States and New York.
Held in Atlanta, Georgia, a Competition exclusively for wines, meads, ciders & spirits produced in Georgia
Pennsylvania Winery Association commercial wine competition, 2021
Held in Hartford, Connecticut. Judging the wines of Pennsylvania.
Held in Czech Republic. A traditional prestigious OIV international wine competition and one of the most important, held in the Czech Republic. The first year was held in 1993. The objective of this competition is to give highly professional assessment and honour to the best European and world wines present on the Central European region market.
Held in New York. Over 3500 wines from 20 countries, 4 Canadian provinces and all 50 United States. Judges were 50-68 judges from 15 countries,The largest charitable wine competition in the world.
Cornell University Sensory Evaluation Center, 2013-present
Wine and food research studies, trained panelist
Held in Vermont, WineMaker International Amateur Wine Competition is the largest of its kind in the world.
Held in Michigan. Promoting the excellent wines from the Great Lakes and Eastern US due to their unique climates. Provides scholarships and competition travel funds for students in the Culinary Studies Institute.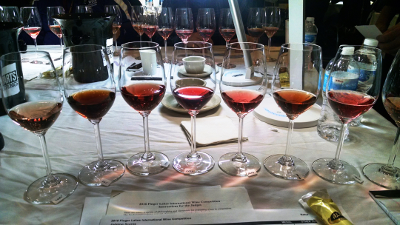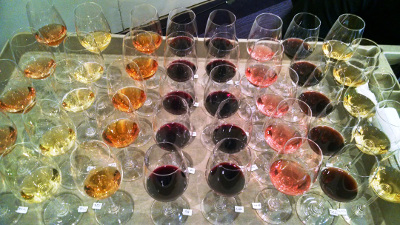 Cover photo by Mark Sanford. Other photos by Annemarie.