Producer: Giovanni Sordo
Vintage: 2010
Wine: Barolo DOCG (100% Nebbiolo grape)
Region: Langhe (subregion), Piedmont Italy
Vineyard: Gabutti, in Serralunga d'Alba
Alcohol: 14% abv
Color: Clear, medium ruby with slight browning at rim
Aroma: This wine needed time after opening to aerate, the aromas were very closed (link to wine tasting) at first. I sampled a taste from the bottle with friends and did not try the wine again that night. I can honestly say my first taste was not memorable.
Impression: When I tried this wine again the following day it had completely opened, showing subtle blackberry and black currant fruit and hints of tar (yes tar is actually not a negative, but adds complexity to the wine), less powerful than other notable Serralunga d'Alba vineyard (link to Barolo page) wines I've had. This wine was more dominated with ripe red and black cherries, red plums, truffles, leather (yes, again not a negative) and a hint of black pepper. The complexity in the wines aromas and flavors (meaning I could pick up many different smells and tastes) had good intensity, medium body, bright acidity and balanced, soft tannins. The components (link to wine tasting) were well integrated and finished with lingering notes of red and black cherry. I paired this wine with Baked Ziti and it was a perfect! The wine brought out the subtle Italian herbal notes in the dish, while the meatiness, soft ricotta and parmesan cheeses in the dish matched the body and depth of the soft fruits and tannins in the wine perfectly. I'm glad I waited and saved half the bottle to enjoy with dinner. More often than not, I find quality wines (even the affordable ones) benefit with sufficient time to open up (or I decant once or twice if I'm impatient and want to drink sooner). This wine was the perfect example of this. Some wines need time after they're opened to show their true potential… 'patience is a virtue' after all!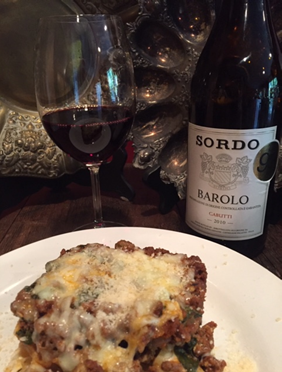 Sharyn Kervyn (de Volkaersbeke) dipWSET, CSW, CWJ, Sharyn is a Diploma WSET graduate, Certified wine judge, and Certified Specialist of wine. She is also a wine educator and founder of KdV Wine Services.