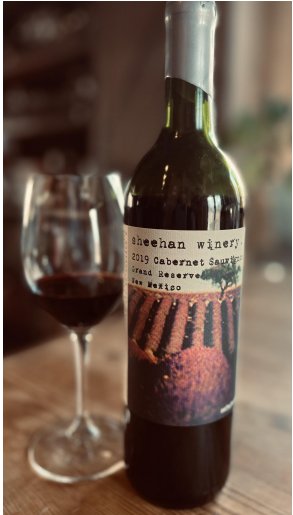 Wine Blog – Valentine's Day Wines
I don't know about you, but Valentine's Day is less about romance and more about
an excuse to buy a really nice bottle of wine and eat excellent chocolate all day. I have
my usual go-tos for spoiling myself, but after a recent tasting of Sheehan Family
Winery's wines in New Mexico, I have to say, these are screaming to be enjoyed this
Valentine's Day.
All of the Sheehan Family Winery wines are well made, artful and dynamic. Many
lean into sweeter flavor profiles so if you like the jammy style red, there is definitely
plenty for you to love. If you prefer bone dry, I suggest the Aglianico and Reserve
Sangiovese. I am actually going to showcase the Aglianico (a powerful red grape
varietal from southern Italy, beautifully expressed in Sheehan's version from New
Mexico) for an event in Europe this summer, but I want to feature his Reserve
Cabernet for V-Day. If you are a white chocolate fan, I highly recommend his Gruneras its distinctive acidity and mineral base can cut through the cloying sweetness of
white chocolate changing the flavors into a passionfruit tang that is highly enjoyable.
The Sheehan Family Winery's Reserve Cabernet Sauvignon retails for $45 and can be
purchased directly from the winery www.SheehanWinery.com . Sean Sheehan
makes incredibly small lots of each wine, dips the neck of each bottle in wax and
numbers each label of every vintage, meaning you know that the bottle in your hand
is #67 of 600 for example. His obvious love for the wines he makes rings true in the
glass with a density and maturity you wouldn't expect from a winery started in 2015.
The Cab in particular has a Napa style heavy extraction and hot finish, but what is
interesting about this giant of a wine, is that it doesn't have the typical varietal
character of a Cab Sauv, such as red current notes or green pepper with that zap of
acidity. If I put my wine judge's hat on, I might dock it some points for this, but in this
situation, where you are looking to enjoy a nice Cab and not over think it, it offers
something different and that is refreshing. Its expression of Cab like notes mixed
with dense, rich elements is pretty impressive. In fact, this wine presents more like a
Shiraz with its black fruit and spicy notes (which to be clear can appear in many Cabs,
but I find defines a Shiraz). It opens in the glass and offers earthy notes, leather,
baking herbs and even floral aspects on the palate (think of those little violet candies
sold in the pretty tins). A rich dark chocolate truffle, a chocolate lava cake or on its
own while watching a Romantic Comedy makes this wine the only amore you will
need this Valentine's Day. If my husband behaves, he might get a glass.
Sean Sheehan, the winemaker and owner, is a sweetheart of a person, kind and
gentle. His sincere blue eyes and white blonde hair might lead you to believe he is
too young and innocent to know the art of fine winemaking, but the true nature of
this young man is one who crafts his wines with precision chemistry and math, full of
maturity and expertise. His smile suggests that he just happened upon creating
these blockbuster wines, but the truth is that he was a chemistry and biology major
with plans to become a doctor. His strong science background and enthusiasm for
the art of wine shows that he knows exactly what he is doing, how to do it and that
he has 100% of the skills necessary to accomplish it.
Sheehan Winery has vineyards in Corrales, Bosque Farms, and the South Valley of
Albuquerque, NM. They also source high quality grapes from small growers
throughout the state. Their wines are made exclusively from New Mexico-grown
grapes. They now have two tasting rooms; Red River and Old Town in ABQ with once
monthly tours of the winery itself.
Don't wait for someone to treat you special on Valentine's Day, do it for yourself! And
nothing says self-care like discovering a new wonderful winery. Welcome to Sheehan
Family Winery.